ELF photo news
2019.01.07 upload
Faculty Development Workshops: 'ELF Assessment'
The CELF held two 'ELF Assessment' faculty development workshops for CELF teachers on November 16th & 19th. The interactive workshops were conducted by Paul McBride and Blagoja Dimoski. We are especially grateful to Curtis Beaverford, who also presented his informative ELF assessment methods and teaching ideas during one of the sessions.
2018.10.31 upload
On Friday, October 26, CELF full-time teachers, along with the help of three undergraduate and graduate students, hosted the 'Second (2018) Annual Kindergarten and University ELF Halloween Event'. This year, approximately 80 (four and five-year-old) children from the Tamagawa Kindergarten, with their teachers, attended the one-hour event, in which the children were treated to an assortment of fun Halloween activities and songs in English.
2018.10.11 upload
On October 10, 2018, a special lecture was given at the CELF by Dr. Jana E. Moore from Moanalua High School, Hawaii, USA, on 'Working with Special Needs Students in the Language Learning Environment'. In attendance were Tamagawa University teachers and other staff, as well as participants from outside the university.
Dr. Jana E. Moore was presented with a token of appreciation by the Director of the CELF, Dr. Masaki Oda, following her special lecture on October 10, 2018.
2018.10.10 upload
On October 9, 2018, the CELF conducted a Faculty Development (FD) Workshop/Discussion on Grant-In-Aid for Scientific Research (Kakenhi). The discussion was led by the Director of the CELF, Professor Masaki Oda and CELF Chair of FD, Rasami Chaikul. In attendance were CELF full-time teachers.
2018.08.03 upload
On July 13, 2018, the CELF was pleased to welcome Associate Professor Nitida ADIPATTARANAN (Ph.D), Director of Doctor of Education Program in Curriculum, Teaching, and Learning Technology at the Faculty of Education, Chiang Mai University, Thailand, who spoke on 'Teacher Education in Thailand: What Thai Students Study to Become an English Teacher'.
2018.06.05 upload
Dr. Tomokazu Ishikawa facilitated two CELF faculty development workshops on current thinking and research in ELF on May 25th (Friday) 28th (Monday).
2018.05.17 upload
Travis Cote and Brett Milliner facilitating one of two Blackboard Workshops for both new and continuing CELF teachers at the start of the 2018 Spring Semester. The workshops were held on April 16th & 17th.
2018.05.01 upload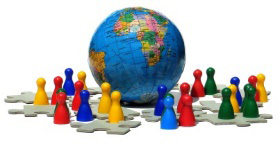 CELF teachers are gathered for the 2018 Teacher Orientation Meeting held on March 27th. Following the main meeting, teachers moved to the Active Learning Zone in the ELF Study Hall 2015 to participate in discussion groups related to ELF-informed pedagogy and research.
ELF photo news Backnumber
ELF photo news 3(2018年度)
ELF photo news 2(2017年度)
ELF photo news 1(2016年度)